In tooth extraction procedures, one of the essential instruments is a periosteal elevator. It helps to hold thick and soft tissue flaps. It is a handheld instrument that mainly helps separate and cut loosened teeth and periodontal ligaments. In addition, it helps to reflect and extract flaps conveniently. During surgery, the surgeon has to remove the bone or tooth from the periosteum, and the periosteal elevator serves the purpose. It can also function to make a way to approach retained roots and bone around them. The tips should be pointy so that the tissue flap will not break, and edgy tips will make holding tissue flaps easier.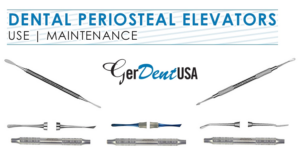 One round end and a slightly curved other end make it a variable surgical tool that can assist a surgeon during different surgeries besides giving a greater view of the mouth area. Their light, round, hollow and large diameter makes it easy to handle during complex surgeries.
Uses Of The Dental Periosteal Elevator In Maxillofacial Surgery
These elevators are mandatory instruments in oral surgeries and maxillofacial operations and treatments. One further usage of these elevators is to provide a vivid view of the operating site, which is a key step of all surgeries. Their types vary on the basis of functions and anatomical sites. During orthognathic surgery, there is a need to withdraw mucoperiosteum, which is an integral step. To do this, the Howard periosteal elevator is the best tool to use. Soft-tissue dissection comprises sensitive and critical sites like holding up the nasal mucosa during the Lefort I procedure and medial subperiosteal dissection of the mandible during bilateral sagittal split osteotomy. Sufficient bringing up of nasal mucosa to the perpendicular plate of palatine bone before lateral nasal osteotomy alleviates the stress and trauma to sensitive tissues.
Read also about videovor
Major Types Of Periosteal Elevator Surgical Instrument
These instruments vary in configuration to help dentists in many fields of utilization. Using the advanced tools helps to make your surgical procedures go easy and smooth without any complications.
Allen Periosteal Elevator
It refracts and reflects the mucoperiosteum after gingival tissue incisions. The blade of the tool makes its way into the sulcus of the posterior tooth and then goes straight to the distal papilla end on the mesial surface of the tooth.
This instrument has the following variations:
It consists of a coated pattern.

It consists of an un-coated pattern.

The tunnel technique requires blunt dissection, and it helps with it. German stainless steel of Premium quality makes it work and function accurately.
Bennett Periosteal Elevator
It refracts and reflects mucoperiosteum after gingival tissue incisions. It has a double-ended design. It is of Superior quality metal and is available in multiple sizes. The tool varies in patterns large, medium, and small. It is specifically designed for retracting the mucoperiosteum after gingival tissues incisions.
Benque Periosteal Elevator
This type of elevator helps to elevate the fibrous tissues, which are tightly bonded with the bones adjacent to teeth. It has narrow and elongated working ends. It is reusable and made with quality material that prevents rust and corrosion of equipment.
Howard Periosteal Elevator
After the incisions of gingival tissues, the Howard elevator is used to retract and reflect the mucoperiosteum. It has double working ends, which helps dentists in dental practices.
Maintenance Of Periosteal Elevators 
The regular maintenance and care of the surgical instruments are essential as it is a matter of the patient's oral health. It is recommended by healthcare professionals to have a routine inspection of dental and surgical equipment. Dentists should check the sharpness and efficacy of the dental equipment before using it in the procedures. The regular use of elevators will make them dull. That's why it is necessary to check the sharpness of elevators before the extraction procedure.
Final verdict 
If you are looking for dental elevators for your dental practices, then visit GerDentUSA Inc. it supplies and offers customized dental products to customers. It has maintained its reputation in the healthcare market for many decades. There is a wide variety of dental equipment available on the website, whether you are looking for a surgical periosteal elevator or anglevator. All of these have innovative designs and need low maintenance. It also provides the best customer service. So what are you waiting for? Go and check out the latest equipment and add the items of your choice to the cart.
Read also about How To Asthma Proof Your Home For Every Housewife