The solar energy solutions are increasingly becoming prominent with an increased focus on alternative green and environment friendly energy sources for the various consumer requirements. One of the biggest advantages of solar powered panels is that they don't pollute the environment like traditional energy sources and thus the demand for the solar energy products and accessories is gradually increasing. The declining health of the planet has prompted experts and activists to push for alternate sources of energy and the solar powered products are one of the biggest beneficiaries of this transition.
The solar mounting system is primarily used for fixing solar panels on different surfaces like building facades, roofs, and ground or it is also possible for them to be incorporated within the building structure. Based on the type of the mounting structure, the mechanism used for cooling can differ. The ground mounted solar panels tend to provide better air flow from both the sides. This is the reason why they tend to cool off more easily in comparison to the panels which are mounted on roof. This has an impact on the temperature control for solar panels and also the efficiency of the panels. The type of solar mounting system that you choose for your project also has an impact on the project cost.
Understanding solar floating system and its features
The floating system from Mibet energy can be integrated on liquid surfaces including lakes, reservoirs and ponds. This design helps in solving the problem of land space limitations. One of the prominent solar floating system provided by the company is known as MRac Floating PV Mounting system G4N. This product is integrated in the solar PV power plant installation  on water. It incorporates the HDPE material and this product has passed numerous tests of water absorption, anti aging, and anti UV. This product can also withstand pulling force which is higher than some of the other products.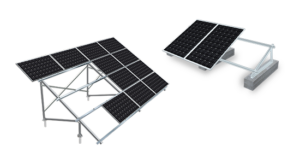 This product from https://www.mbt-energy.com/ adopts the new module design in the floater and main floater. This solar floating system also fulfills array of double row in symmetrical facing or same facing which increases solar generation efficiency and the capacity of installation. This solar floating system is very easy to install, considerably affordable and has a long lifespan of greater than twenty five years.
The floating system has a modular design which provides the essential convenience of splice installation. Since it is made using high density polyethylene it ensures the long service lifespan. It comes with the multi array design which makes it easier to combine. This model is compatible with several solar modules which helps in saving the cost. This product comes equipped with robust weather ability and its mechanism facilitates easy operation as well as maintenance. If you want to fix this floating PV solar system then it can be done using the anchoring system.